04 Mar

When it comes to choose your diamond ring, we prefer the best option for our partner as well worth for the price. Before you design your ring, we would suggest you to go through the steps of choosing your dream diamond ring.
Step 1: - Make up your mind

Before move ahead to other steps it is very important to make up your mind for Engagement Ring. Specially the design and the diamonds you want to set. As well the budget you want to spend for the ring.
Step 2: - Choose Your Diamond
After deciding the ring, you want to make, next step is to choose the suitable diamond for the ring. Choosing a perfect diamond is most important the ring. Let's discuss the factors matters to choose your diamond.
Diamonds available in many shapes based on how they cut and polished in mines. Diamond has various shapes such as
Round Diamond (also called Brilliant Cut Diamond)
Princess Cut Diamond (also called Square Diamond)
Emerald Shape Diamond
Ascher Cut Diamond
Cushion Shape Diamond
Cushion Brilliant Diamond (slightly round edges diamond with cushion shape)
Radiant Cut Diamond
Pear Cut Diamond
Oval Cut Diamond
Marquise Cut Diamond
Heart Shape Diamond
Addition to these shapes of diamonds are Trapezoidal Cut Diamonds, Baguette Cut Diamonds, Trilliant Cut Diamonds, Tapered Baguette Diamonds.
Some of the rare cut Diamonds like Rose Cut diamonds, Un cut Diamonds (diamonds from mines without polish and shaped).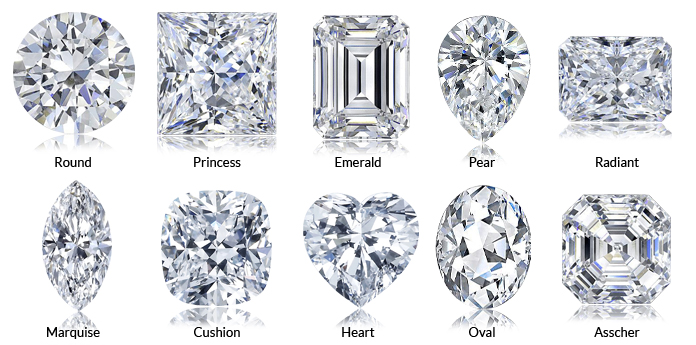 Second important factor when it comes to select the diamond.
Diamond color grade starts from alphabets D to Z.
The flawless and white diamond color starts from color D, D is the first color and best for shiny and sparkling diamond. Color grades from D to H consider as white color of diamond.
As we select the lower color above H to Z, diamond will be yellowish.
So, you can choose color grade from D to H for white Diamond.
And then comes the yellow diamond colors.
Another factor to choose the diamond is Diamond clarity, how clear the diamond is , it is with the inclusions or without inclusions.
Diamond clarity grades are…
FL, IF (Flawless or internally flawless diamond)
VVS1, VVS2 (Very Very Small inclusions level 1 and 2)
VS1, VS2 (Very Small inclusions level 1 and 2)
SI1, SI2, SI3(small inclusions level 1, 2 and 3)
I1, I2, I3 (Inclusions level 1, 2,3)
Diamond Cut, Polish, Symmetry:-
Diamond Cut, Polish and Symmetry matters same as the Diamond Color, Diamond Cut, Polish, Symmetry orders be like
Excellent
Very Good
Good
Fair
Excellent Cut, Excellent Polish and Excellent Symmetry leads to shiny and sparkling diamond, diamond shine reduction starts as we choose any other except Excellent.
Diamond Price varies with above factors. i.e. from Excellent to Very Good, Good and Fair.
Fluorescence can be none, Medium Blue, Strong Blue, Faint. Fluorescence can be seen in Ultra Violet rays only.
Other Factors to choose Diamonds are:-
Ratio: - standard Diamond Ratio is 1.40 % to 1.35 %
Cullet, Gridle, Table, Measurements of Diamond.
Sometimes even the Carat of Diamond is bigger but the measurements of Diamond are small or not proper, that also could be the reason that diamond looks smaller.
Step 3: - Choose your Ring Setting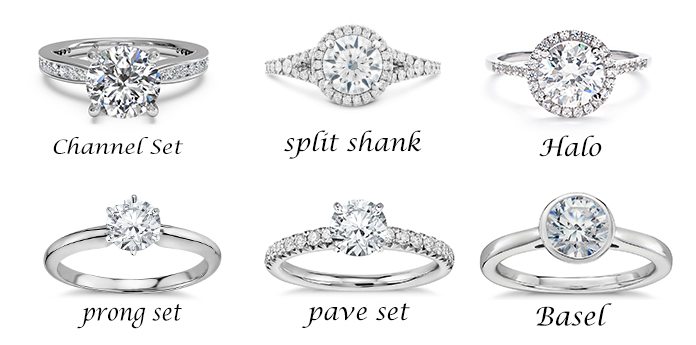 You can choose your Ring Setting from above Settings, after deciding the best diamond we can select the ring setting to set the diamond properly.
Ring Setting metal can be Rose Gold, Yellow Gold, White Gold.
Original Color of Gold is Yellow Gold but after processing to it we get the Rose Gold and White Gold, as well price vise all 3 color of gold will be same.
As well you can choose the Ring setting with Platinum, purity of platinum is 950 and rest is alloy. Same for the 18kt gold purity is 750 and rest is alloy mixed with gold to make it strong. Color for Platinum and white gold is same, as the ring will be heavy when made in platinum.
Step 4: - Set Diamond
After the Ring setting, it's time to set the diamond to Setting.